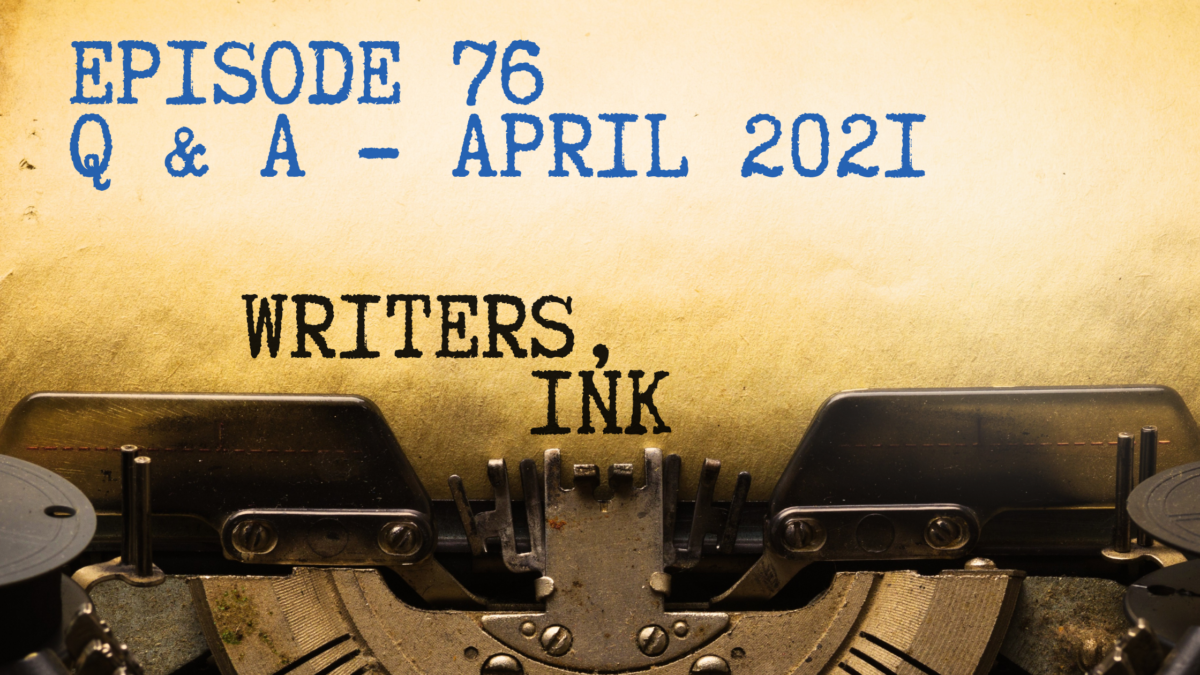 Q&A Episode – April 2021
In this monthly q & a session, the guys answer listener questions.
Whether you're traditionally published or indie, writing a good book is only the first step in becoming a successful author. The days of just turning a manuscript into your editor and walking away are gone. If you want to succeed in today's publishing world, you need to understand every aspect of the business – editing, formatting, marketing, contracts. It all starts with a good book, then the real work begins.
Join international bestselling author J.D. Barker and indie powerhouses, J. Thorn and Zach Bohannon, as they gain unique insight and valuable advice from the most prolific and accomplished authors in the business.
Join us on Patreon and ask your question LIVE on the podcast!
https://www.patreon.com/writersinkpodcast
Questions asked:
I've heard conflicting pieces of advice: to write the books you would like to read but aren't out there yet, and then on the flip side, if a book isn't out there, that means no one wants to read it. What are your opinions? If there isn't any books in a particular genre or sub-genre is it because no one wants them or simply because no one has written the books yet?
For fun: if you were stuck on a deserted island and could take the catalog of one musical artist with you, who would it be?
When COVID restrictions lift, what are your personal and professional plans for travel, events, activities, etc?
Is there any value in trade reviews or awards?
Are any of you going to try kindle vella? I think I calculated it to pay 4 cents per 1000 words read which isn't horrible. Though ezines and anthologies pay 1000 times that.
Do you have a set budget per book or series for advertising?
If you wrote a one-off book that you thought was very good; how would you decide whether to go trad or self-publish? Assume immediate earnings was not an issue and you think it might sell well. I'd be interested to hear J D's view also, as I believe he is a hybrid. How does he make that kind of decision?
Are there any popular novels written that mix first person and third person?
Links:
J. D. Barker – http://jdbarker.com/
J. Thorn – https://theauthorlife.com/
Zach Bohannon – https://zachbohannon.com/
Story Rubric – http://storyrubric.com
Nonfic Rubric – http://nonficrubric.com
The Career Author Summit 2021 – https://thecareerauthor.com/summit2021/
Proudly sponsored by Kobo Writing Life – https://kobowritinglife.com/
Music by Nicorus – https://cctrax.com/nicorus/dust-to-dust-ep
Voice Over by Rick Ganley – http://www.nhpr.com and recorded at Mill Pond Studio – http://www.millpondstudio.com
Contact – https://writersinkpodcast.com/dev/contact/
*Full disclosure: Some of the links are affiliate links.