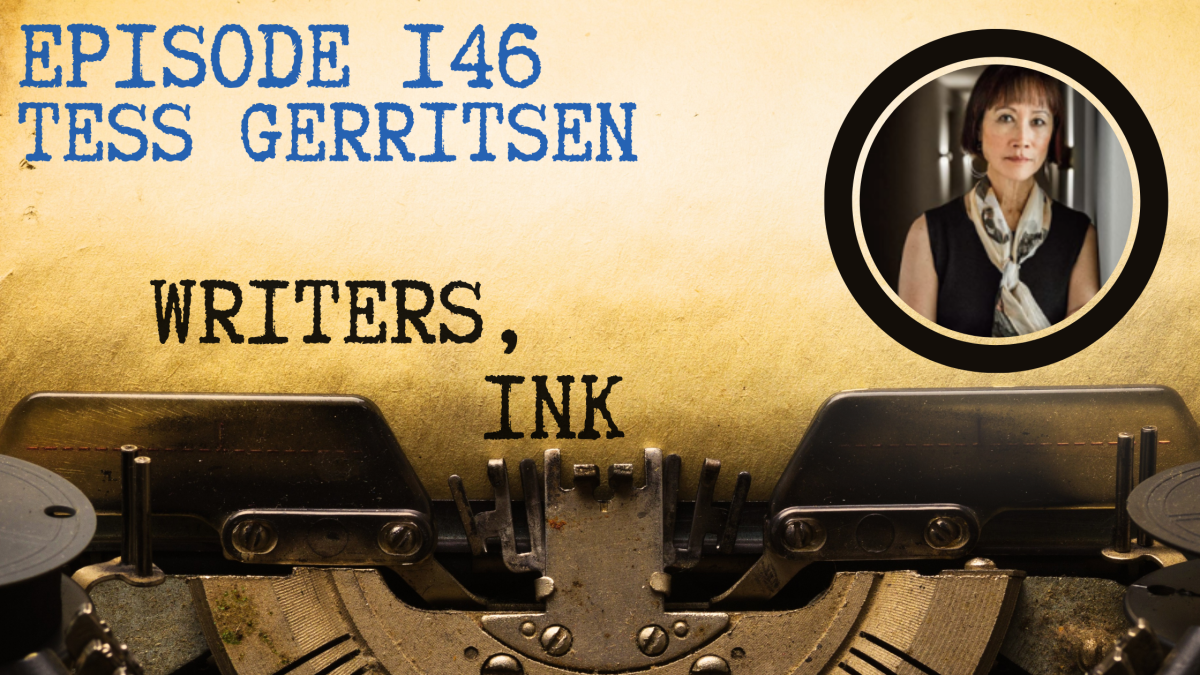 Tess Gerritsen has spent decades refining her craft. From handwritten first drafts to listening to her characters, she follows the Muse on her creative journey. Tess wasn't sure she'd write another Rizzoli & Isles book until she became excited about the possibilities of another installment in the hugely successful series. Whether it's tending to her vegetable garden or her archive of handwritten manuscripts, Tess does so with care and creativity. Her characters are beloved worldwide, a testament to her enduring ability to master the craft of writing while being a keen observer of the world around her.
From Amazon.com:
Internationally bestselling author Tess Gerritsen took an unusual route to a writing career. A graduate of Stanford University, Tess went on to medical school at the University of California, San Francisco, where she was awarded her M.D.
While on maternity leave from her work as a physician, she began to write fiction. In 1987, her first novel was published. Call After Midnight, a romantic thriller, was followed by eight more romantic suspense novels. She also wrote a screenplay, "Adrift", which aired as a 1993 CBS Movie of the Week starring Kate Jackson.
Tess's first medical thriller, Harvest, was released in hardcover in 1996, and it marked her debut on the New York Times bestseller list. Her suspense novels since then have been: Life Support (1997), Bloodstream (1998), Gravity (1999), The Surgeon (2001), The Apprentice (2002), The Sinner (2003), Body Double (2004), Vanish (2005), The Mephisto Club (2006), The Bone Garden (2007), The Keepsake (2008; UK title: Keeping the Dead), Ice Cold (2010; UK title: The Killing Place), The Silent Girl (2011), Last To Die (2012), Die Again (2014), Playing With Fire (2015), and I Know A Secret (2017). Her books have been published in forty countries, and more than 30 million copies have been sold around the world.
Her books have been top-3 bestsellers in the United States and number one bestsellers abroad. She has won both the Nero Wolfe Award (for Vanish) and the Rita Award (for The Surgeon). Critics around the world have praised her novels as "Pulse-pounding fun" (Philadelphia Inquirer), "Scary and brilliant" (Toronto Globe and Mail), and "Polished, riveting prose" (Chicago Tribune). Publisher Weekly has dubbed her the "medical suspense queen".
Her series of novels featuring homicide detective Jane Rizzoli and medical examiner Maura Isles inspired the TNT television series "Rizzoli & Isles" starring Angie Harmon and Sasha Alexander.
Now retired from medicine, she writes full time. She lives in Maine.
For more information on Tess Gerritsen and her novels, visit her website: www.tessgerritsen.co.uk.
In this episode, you'll discover:
How getting your first paycheck changes everything
Why you need to avoid monomouth
Why a handwritten first draft can open new possibilities
When to plant lettuce
Links:
J. D. Barker – http://jdbarker.com/
J. Thorn – https://theauthorlife.com/
Zach Bohannon – https://zachbohannon.com/
Wonder Lodge – https://www.vrbo.com/2911457?unitId=3483497
2022 Colorado Gold Writers Conference – http://rmfw.org/conference-2022/
Tess Gerritsen – https://www.tessgerritsen.com/
Rizzoli & Isles: Listen to Me: A Novel – https://books2read.com/rizzoli13
Three Story Method: Writing Scenes – https://books2read.com/threestorymethodws
Best of BookTook – https://bestofbooktok.com/
Story Rubric – http://storyrubric.com
Nonfic Rubric – http://nonficrubric.com
Scene Rubric – http://scenerubric.com
Proudly sponsored by Kobo Writing Life – https://kobowritinglife.com/ and Atticus – https://www.atticus.io/
Music by Nicorus – https://cctrax.com/nicorus/dust-to-dust-ep
Voice Over by Rick Ganley – http://www.nhpr.com and recorded at Mill Pond Studio – http://www.millpondstudio.com
Audio production by Geoff Emberlyn – http://www.emberletter.com/
Contact – https://writersinkpodcast.com/contact/
*Full disclosure: Some of the links are affiliate links.